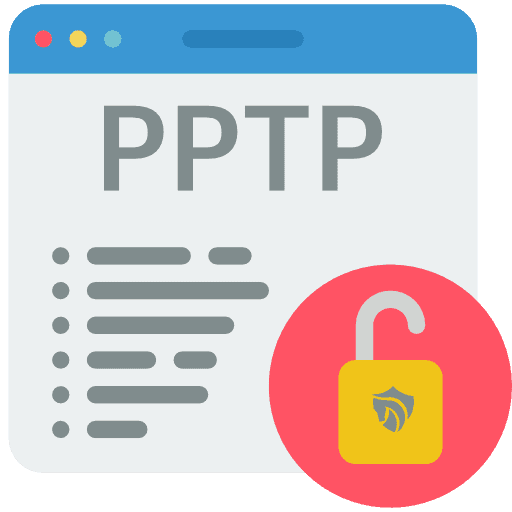 PPTP VPN technology allows you to overcome network restrictions and to increase your Internet speed. It also allows you to view any website no matter where you are located in the world. Using PPTP VPN service will help overcome restrictions from your work or school, government, or just about any other institution you may be restricted by. It is an inexpensive and fast way to bypass these restrictions! It gets you around network security blocks and allows you to access content that might otherwise be unavailable because of your network.
PPTP (Point-to-Point Tunneling Protocol) is a method of implementing virtual private networks. It creates a 'tunnel' from the PPTP client over the TCP/IP network to the PPTP server. The PPTP client software encrypts all traffic and then tunnels it to the PPTP server. The PPTP server accepts this encrypted traffic, decrypts it, and forwards it on the local LAN or across another network, depending on how you configure your PPTP VPN client. PPTP is an Internet standard that lets you connect to the web with a secure encrypted connection.
The PPTP VPN connection is simple and straightforward.
You'll have an encrypted (and anonymized) connection in minutes. PPTP's popularity is due to its simplicity. The PPTP VPN protocol is no longer considered secure. Still, the critical feature it provides is a connection over the Internet that essentially appears as a dedicated private link or tunnel. This dedicated channel between the sending and receiving computers is intended to provide the fastest possible connection. Proxy Privacy is one of the fasted VPN providers using this protocol, so you enjoy excellent speeds when connecting to the world.
While initially designed to be a shortcut to PPP, today PPTP is used almost exclusively as a security-enhanced replacement for the PPP payload encryption protocol (PAP), which was not designed with security in mind. At no point in the PAP, protocol flow is any integrity checking or verification of the end-to-end data integrity and originator authentication done.
A PPTP VPN uses a TCP control channel and a Generic Routing Encapsulation (GRE) tunnel to encapsulate PPP packets. Many modern VPNs use various forms of UDP for this same functionality. It works by using PPP to establish a connection that provides for IP address assignment, authentication, and encryption over the network link. Subsequent traffic between the client and server is encrypted with MPPE. Further signalling exchanges between the client and server are accomplished with L2TP Control Protocol (L2TP).
PPTP VPN is very easy to setup.
PPTP is a basic protocol for VPN encryption. Despite some of its shortcomings, it's fast and easy to set up—a definite must for every VPN user.
Work anywhere PPTP works with all kinds of connections including wifi, ethernet and firewire.
It's that simple since PPTP support is built into Windows, router, and most smartphones.
Is PPTP VPN secure? Although this question is still controversial, it can be said that PPTP is only secure enough for a majority of the use cases. It might not be very reliable when used to send highly sensitive data. Therefore, if you are looking for a VPN that is extremely secure and trusted by most of the users around the world, go with OpenVPN. OpenVPN is more secure. A lot more. There are a number of papers that have been written in the last few years that clearly demonstrate why PPTP should not be considered to be secure, yet many people still do because they don't fully understand how VPNs work or how they provide security.
Advantage #1 PPTP VPN is built into all the popular commercial operating systems, and PPTP VPN works on all standard computers. This makes PPTP VPN very easy to use. This also means that it is very well supported by most providers, since they have built their security technology around this protocol.
Advantage #2: PPTP VPN can be used with dynamic IP addresses. Because it does not require any special algorithms, it can also be used with dynamic IP addresses. This makes PPTP VPN the best solution for many people.